A keyword research tool is a piece of software or web service that allows you to achieve one of two key goals: Generate a list of related keywords based on a seed keyword Evaluate how competitive a given keyword is You do this by typing your keyword into the search field of your keyword tool of choice: And it generates a list of keywords related to your original search term by harvesting data from one or more data sources typically from search engines.
1. SEMrush
SEMrush is a complete SEO suite with all the tools you need to carry out keyword research.
Using the Keyword Overview tool, you can type in a keyword and get a full picture of everything you need to know. This includes how many people search for the keyword, whether it's growing in popularity or becoming less popular (the Trend), and much more.
After scrolling down, you can also see a handy list of other similar keywords you might want to use, along with a list of organic search results, so you can find out where your competitors rank for the keyword. You can also check out Google Ads that use that keyword.
2. AnswerThePublic
AnswerThePublic works a bit differently from most other keyword research tools, presenting results in a nice visual format (though you can also see them in a list and download a .csv file of results).
If you're just getting started with SEO and keyword research, then this is a great tool to try, because you don't even need to create an account to use it. Just type in your keyword and take a look at what comes up.
The keyword results from AnswerThePublic are based on Google and Bing's auto-suggest features. You can click on any of these keywords to search for it in Google, and it'll open up in a new tab.
This will show what content is ranking for those terms and whether there's a featured snippet on it.
3. Ubersuggest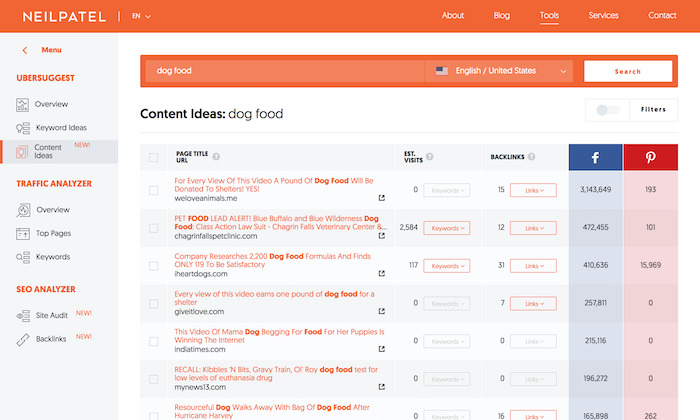 Ubersuggest is a free tool from Neil Patel that offers search volume data, keyword suggestions, an idea of how difficult your keyword will be to rank for, and more.
As well as seeing lots of suggestions for related keywords, you can view a table of the top 100 Google results for that keyword, with estimated visits, number of backlinks, a domain score, and a total number of social shares.
Under Content Ideas, it also shows content related to your keyword, listing estimated monthly visits, backlinks, and number of shares on Facebook and Pinterest.
If you sign into Ubersuggest with your Google account, then you'll be able to get more keyword suggestions, daily rank tracking, and personalized SEO suggestions.
4. Ahrefs
Ahrefs offers similar features to SEMrush, and makes a great alternative to it. Using Ahrefs, you can come up with keyword ideas simply by typing a keyword into the search box. You'll then see a whole list of keyword suggestions.
You can also use Ahrefs to see content your competitors are ranking for (but that you're not), so you can create new pieces targeting keywords related to those subjects.
5. Google Keyword Planner
Google's Keyword Planner is really designed for use by advertisers who want to run their ads on Google. However it's still a useful tool for SEO, and it's free to use.
To access it, you'll need a Google Ads account. If you don't already have one, then you'll need to create one and enter your payment details, but you don't need to run an active campaign or pay for anything.
Once you've got access to the Keyword Planner through your Google Ads account, you can type in any keyword and view data for (very approximately) how many monthly searches it has. You'll also see a long list of related keywords ideas, which you scroll through or download.